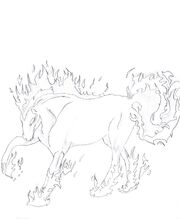 Due to his unique existence, he possesses within him multiple Twin flames. These Twin Flames are literally the other half of a soul. Each twin is a complete soul, not half a soul. This union of two completes both, making both beings whole. Each one of Sincere's ultimate soulmates are synchronized with the 'frequency' of his entire existence. They are one with all of his essence. It's the Ultimate Union of Love.
In order for Christopher Sincere Pride to protect himself, he discarded his entire being. He split himself into eighteen pieces, giving one of his ultimate soulmates a piece of himself to eternally and permanently hold. The observable and subjective representation of Christopher Sincere Pride is actually none of him, for he is truly broken into eighteen fragments, existing in one of his ultimate soulmates.
(18 Fragments)
These are the 18 pieces that are not linked with Christopher Sincere Pride. He possesses none of them. (Although it reads 18, it starts from 0)
Subjective Reality/ Metaphysical Body
Heart (Physical and Metaphysical)
Nothingness/Principle of Creation
Trending pages
All items (20)
Community content is available under
CC-BY-SA
unless otherwise noted.