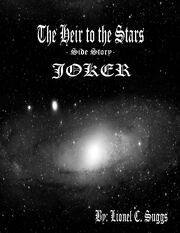 Heir to the Stars: JOKER is the first side to the Heir to the Stars series. This title was written and published in 2011 by Lionel Suggs.
Heir to the Stars: JOKER (Content Page)
Somewhere during the events of Heir to the Stars and Heir to the Stars II, there was a Suit named Joker. Take a journey into the world of the final Suit as the End of all Verses draws near...
This story takes place within the Second Floor of the Cosmic Ladder - Zweiverse. There are many concepts that can be akin to that within the 1st Floor, as well as locations. However, this is to show the ever climbing ladder, and that more than one singularity exists on a higher transcendental plane.
Community content is available under
CC-BY-SA
unless otherwise noted.